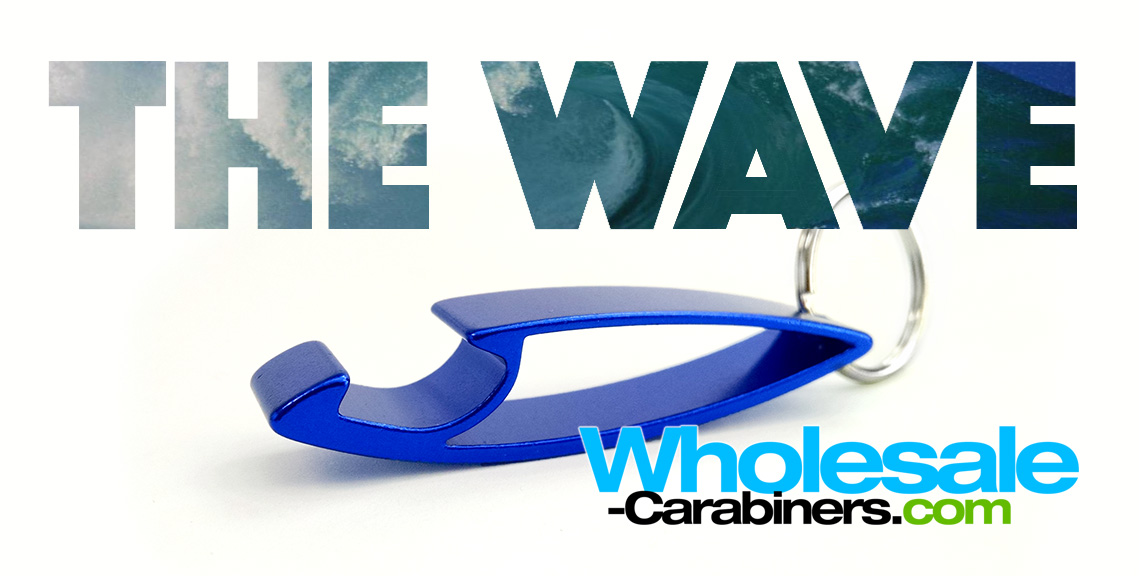 If you're looking for a strong and lightweight bottle opener at a low wholesale price, then you're in the right place. Surf your way to savings when you catch The Wave. These bottle openers are constructed of premium series-6000 anodized aluminum and are available in nine bold colors.
Why do we call it The Wave? Check it out. When you look at this bottle opener from the side it becomes apparent: each keychain opener has the profile of a cresting wave! And because of this shape the bottle opener has a more substantial grip so it is easy to hold. It also adds strength to the form so that it won't flex or break. And with an attached split ring you can easily add this to your keys so that it's always nearby when you need to open a bottle.
Get these laser engraved with your custom logo or artwork. Top and bottom engraving is available. Part of what makes these bottle openers so great is the available engraving area. Wider than most standard aluminum bottle openers, you have a full 1.75" x .3125" on the top to fit your artwork and 1" x .3125" on the bottom. That's over 45% more engraving area than our standard BevLever!
Prices start at just $0.80 each with our minimum order of 250 and as always: the more you order the more you save with our tiered pricing structure. Setup is free on one-sided engravings and only $25 setup for the second side plus just $0.20 more per unit for two-sided engraving.
The Wave keychain bottle opener makes a great promotional item for any business or organization that wants to show off their brand. Maybe you run a beachside resort and you're getting ready for the spring-breakers to show up. Give them something to take home so that they remember where they had such a fun time and will come back again next year.